It's so damn easy to see what is the big trend now. Simply look at all Spring make-up collection of high-end brand, or the back of pastel jeans. I'm a bit sad because I can't wear full pastel clothes even I'm a big fan of pastel colors because I have a full figure, but however I still can wear a black/navy jeans/legging with pastel top and a lovely nude shoes, I have a mint green bag too that should be perfect for Spring.
So what's about make up? Just looke at Lancôme, YSL, Dior... limited collection you can see the pastel make up is coming back with luminous skin and pastel colors for eyes, lips and cheeks. But still, this is not easy to wear. It's ok for you to wear like the girl in campaigns below to a party or even :
Lancôme
Dior
YSL
But my favorite this season is definitely Giorgio Armani! Yes they still have the pastel palette in the collection, but it's nothing about cute or something like that when you heard the word "pastel". It's morden, edgy, wearable for normal day. The skin is Luminous ( <3 GA Luminous Silk Foundation), strong but light color eyebrow, the eyes is just a hint of minty green with the glossy finish and 2 coats of mascara. Cheeks and lips are very simple to re-created just a little bit of pink brown blush or light bronzer and natural gloss.
The eyes make-up is easy for you to do. Blend light green color all over your eyelid, and use a clear lipgloss on top, then curl your eyelashes, apply mascara! If you don't like cool tone color, try to use a hot pink gloss all over your eyelid like Emma Waster cover of ELLE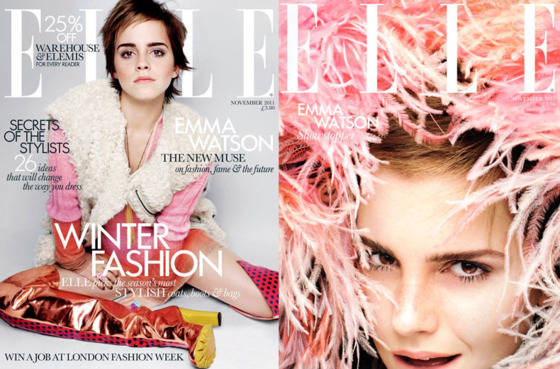 If you can't afford a high-end palette just to play around this season to be on trend, I recommend the MUA Pretty Pastel palette only available in Superdrug, price is
£4.00
for 12 colors :
Thank you for reading, I'll see you in next posts :) x